One of my students opened up about having a planned cesarean and her desire to make it as intimate as possible. This sparked a conversation about the option for a "Gentle Cesarean". Many of the students had not heard of this. So, let's take a dive into what this is so you know all your options!
Navigation
Understanding Traditional Cesareans
In a conventional C-section, the process is typically clinical. Parents may feel side lined, with the birthing procedure taking place behind a screen, making them passive observers rather than active participants. The focus is primarily on the surgical procedure, and the emotional and bonding aspects of childbirth can sometimes be overlooked.
What is a gentle Cesarean?
A Gentle or also referred to as "Parent Centered Cesarean" aims on making the cesarean birth experience more intimate and family focused.. Here's how it differs:
Visibility: Instead of the baby being delivered behind an opaque screen, the draping is lowered, revealing a clear screen so the birthing parent can witness the miraculous moment when their baby is gently and gradually brought out into the world.
Immediate Bonding: The procedure emphasizes immediate skin-to-skin contact between the baby and the parents. This not only fosters bonding but also has numerous health benefits for the baby such as regulating the baby's body temperature and strengthening the baby's immune system.
Intraoperative Breastfeeding: Encouraging breastfeeding during the procedure can further enhance the bonding experience and provide essential nutrients to the newborn.
Why include gentle C-Section in your birth plan?
In my quest to understand this procedure better, I spoke to several people who had undergone cesarean births. A common sentiment among them was feeling detached from the birthing process. Many expressed that they felt more like patients undergoing surgery than a parent giving birth. This feeling of detachment and the lack of involvement can sometimes lead to feelings of dissatisfaction, making new parents more prone to postpartum depression. The gentle cesarean aims to change this narrative, making parents feel more involved and connected during the birth of their child.
How to have a gentle cesarean
If the idea of a gentle cesarean resonates with you, it's essential to discuss it with your healthcare provider well in advance of your due date. Even if you're not planning a C-section, childbirth can be unpredictable. Being prepared and having your preferences known can make a significant difference if you find yourself facing an unplanned cesarean.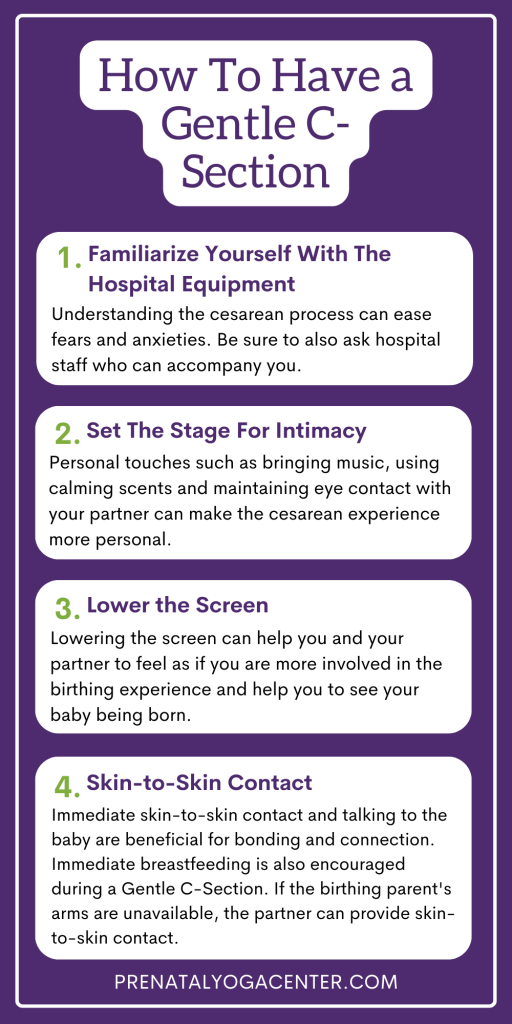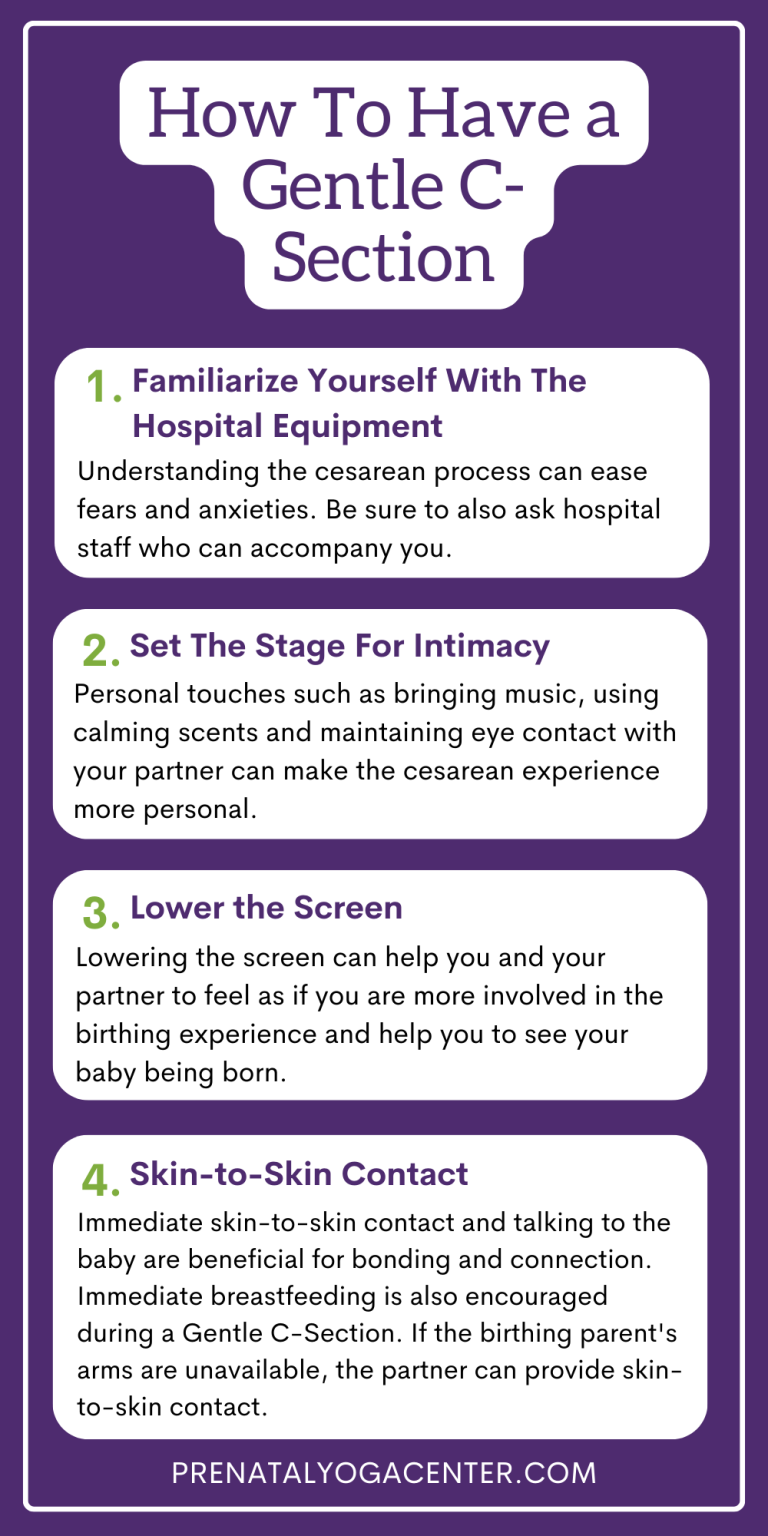 Tips For A gentle cesarean:
Educate Yourself About the Procedure
Understanding the cesarean process can ease fears and anxieties.
Familiarize yourself with the operating room's appearance and procedures.
Ask about hospital-specific details, like who can accompany you during the surgery.
Fill your birth team in on your wishes
Share these tips with your doula and/or birthing partner
Add them to your birth plan even if a cesarean is not your birth plan, adding in your wishes in case of contingency can be helpful.
Setting the Stage for Intimacy
Lowering the Screen

Request to have the screen lowered to witness the baby's delivery.

Prenatal Yoga Techniques

Use calming breath work, concentration, imagery, and internal strength.
Listen to reaffirming and positive stories of parents who used these techniques during their cesarean.

Skin-to-Skin Contact and Communication

Immediate skin-to-skin contact and talking to the baby are beneficial.
If the birthing parent's arms are unavailable, the partner can provide skin-to-skin contact.

Taking Pictures

Capture the first family moments.
Check hospital protocols about cameras in the operating room.

Post-Surgery Baby Location

Determine where the baby will be after the surgery.
Consider having the partner stay with the baby if needed.

Breastfeeding After Cesarean

Initiate breastfeeding as soon as possible.
Seek help from nurses for positioning and support.
Other Reading On This Topic
In conclusion, while the term "gentle Cesarean" might sound contradictory, it's an approach that seeks to combine the best of both worlds: a surgical procedure with the warmth and intimacy of gentle childbirth.
Discover our prenatal yoga classes! During our classes, we discuss childbirth as well as help to inform our students about birth and how to prepare their body for labor and the postpartum phase. Click below to view our class schedule!