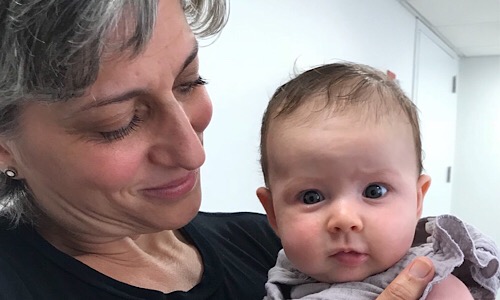 19 Dec

Practical Advice on Caring for Your Newborn with Ayelet Kaznelson

Bringing home a newborn baby for the first time is perhaps one of the most daunting tasks many people face in their life. I clearly remember the moment my husband and I were alone with our new baby. All we could think about was, "when is our postpartum doula going to arrive and could help us navigate this new path."

In this episode of Yoga| Birth| Babies, I speak with International Board Certified Lactation Consultant and a Labor Support Doula, Ayelet Kaznelson. She offers practical tips and advice that new parents can utilize during this huge transition. We're also delighted to be welcoming Ayelet to the PYC teaching community and excited to learn a bit about her.

In this episode: 
Please tell me about yourself and how you found your way into this career?
New parent's biggest concern about bringing a newborn home and caring for it
The top three skills a new parent should focus on as they learn to care for their new baby?
What to expect with breastfeeding in the first few days.
How much a newborn really needs to eat.
Is there something most new parents forget about but can help make this transition a little easier for them?
How to dress your baby! How many layers a newborn needs for the outdoors. Winter and summer suggestions.
How to dress a baby for sleep to avoid being too hot or too cold
Realistic sleep/awake schedule for a newborn
Swaddle or not to swaddle?
Final tips and advice for next and expecting parents.
*Ayelet will be teaching Caring for Newborn, How to Breastfeed, and  leading our Breastfeeding Support Circle at Prenatal Yoga Center beginning in January 2019.
About Ayelet Kaznelson: 
Ayelet Kaznelson is an International Board Certified Lactation Consultant and a Labor Support Doula. Born in Israel, she moved to New York City in 1989. After the birth of her daughter in 1999, Ayelet started training to become a lactation consultant at Elizabeth Seton Childbearing Center. When the Center closed in 2003, she was invited by her mentors to co-found a private practice, The Manhattan Lactation Group, and was also asked by Erica Lyon to join the original staff at Realbirth, New York City's first comprehensive childbirth education and postpartum center. She received her Lactation Counseling Certification in 2002, and after the birth of her son in 2004, Ayelet passed the International Board Certification exam. She relocated to Los Angeles in 2006 where she started a private practice, The Los Angeles Lactation Group, and was a staff lactation consultant at Cedars-Sinai Medical Center. Ayelet returned to New York City and her private practice in 2007.
In the past couple of years Ayelet decided to make the occasional labor support she provided to friends and family into a full time job in conjunction with her lactation work. She trained under DONA. Last Spring she travelled to Summertown Tennessee to The Farm to train as a midwife assistant. In addition to providing labor support, lactation home and office visits, Ayelet is also teaching and running clinics at The Motherhood Center and Prenatal Yoga Center. In the past 17+ years Ayelet have worked with well over 10,000 women and babies and draws from her vast experience when she works with her clients.
She resides in Manhattan with her 2 children, Zoë and Liam (Zoë is away at college but visits frequently) and her psychologist husband Todd.