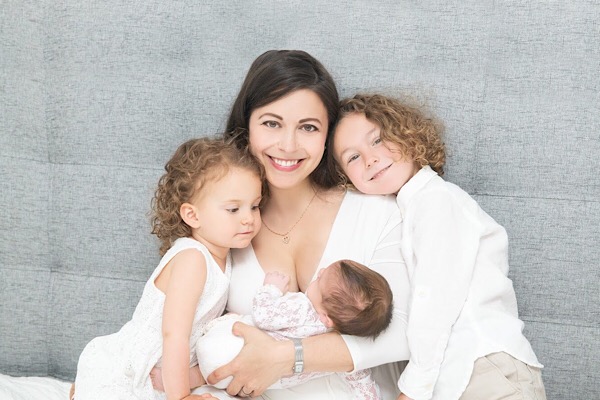 17 Jul

Community Birth Stories: Overcoming Disappointment & Embracing the Uncontrollable

I reached out to Hannah Sarah Faich Dini to be a guest on Yoga | Birth | Babies because chatting with her and simply knowing her is a true delight. I also, in my many years of working with the pregnant population, have not encountered three pregnancies quite like hers. For all three pregnancies, Hannah Sarah had breech babies. And for all three pregnancies she faced the possibility that her births would unfold differently than she had envisioned.

In our open and honest conversation, Hannah Sarah talks about finding peace with unknown factors like, will my baby go head down? And if so, will the baby stay there? Hannah Sarah also bravely discussed facing disappointment with herself during labor and embracing her labor experience.

In this episode:
Learn about a bit about Hannah Sarah.
How Hannah Sarah prepared for her births.
What ignited the desire to switch provers as she learned more about pregnancy and birth.
Same person, but three different pregnancies.
Finding out her baby was breech and what she did to try to change her baby to head down.
When your baby has an unstable lie, what to do?
Feeling disappointment in oneself during labor.
Riding the emotional rollercoaster of all three babies being breech.
How Hannah Sarah's three births differed from one another.
What Hannah Sarah learned in the first two births that helped her feel more at ease heading into the third.
Discussing postpartum.
How has motherhood changed Hannah Sarah.
Feminism through motherhood.
An invaluable tip shared from a friend that made a huge impact.
What has surprised Hannah Sarah about parenting.

About Hannah Sarah:
Hannah Sarah Faich Dini works as a child health programme specialist at UNICEF. Her career in global health focuses on community health systems and strategies to overcome inequities in access to healthcare and other public goods. She lives in Manhattan with her husband, three young children, and two cats. Prior to joining the Prenatal Yoga Center community in 2014, Hannah Sarah was an avid Bikram yogi.