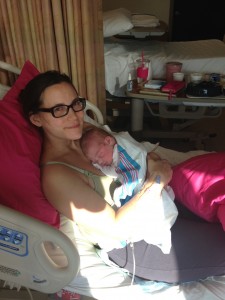 02 Apr

A Positive Voice From Our Community!

Here is just a brief email I received from one of our students. Please enjoy her positive voice.

Hi Deb –

I am writing to you from the hospital where my son born yesterday. I am the talk of the labor and delivery ward! Why you ask? Because yesterday I gave birth to a 10 1/2 lb baby boy! And I did it vaginally, without drugs, and without an episiotomy or tearing!! People can't believe I did it, but I can. I had the best training for the labor process thanks to your amazing practice and knowledgeable teachers. The Prenatal Yoga Center was invaluable to me for my first natural birthing experience in 2010 and it was again, even more so, yesterday. All those kegels do pay off!

So thanks to you and my regular teachers Donna, Frances, and the woman from Wed night classes (Claire I think?) I am a celebrity thanks to you!!

Cheers,

Carly Murphy

What I love about Carly's message is, she believed in herself and her body's innate wisdom to birth her baby even when nobody else believed she could. As wonderful as it is to have the external support of those around you, sometimes you have to listen to your inner voice and determination to truly get through challenging moments. Congratulations, Carly! We at Prenatal Yoga Center wish you a happy (second) journey into motherhood!