Childbirth Preparation Course: Your Guide to a Joyful Birthing Experience
Welcome to the Childbirth Preparation Course, a comprehensive online learning experience designed to prepare expectant parents for the journey of childbirth. This course is all about bringing the joy and lessening the fear associated with childbirth. It is designed to prepare you and your partner to labor and deliver in a manner that suits you best, offering a well-rounded and pragmatic approach to childbirth education.
In Person & Live Virtual Workshops Available
Why Choose the Childbirth Preparation Course?
The birth of a baby is a transformative event, and the experience can be enhanced with the right preparation. This course is designed to equip parents and partners with the knowledge and techniques to navigate labor and delivery confidently.
Your teacher, Terry Richmond brings more than 20 years of experience and attendance at more than 900 births to offer a wide range of options, ideas and confidence builders/anxiety reducers.  
Her goal for this class is to return to the feeling shared with my students when we were in person. I have not created a zoom presentation, but instead, a class that feels like you are right there with me – where I am anticipating your questions and helping you to pace yourself and, yes, even laugh!  
The Childbirth Preparation Course is divided into several sections, each designed to provide you with a deep understanding of childbirth:
Meet Your Teacher and How to Use This Class!

– Get introduced to your instructor and understand how to make the most of this course.

The Basics of Birth and Labor

– Learn about the pregnant body basics and how to empower birth partners.

Going from 0 to 10cm, Comfort and Coping

– Understand the stages of labor and learn techniques for comfort and coping.

Interventions/Complications

– Expected and Unexpected! – Get informed about possible interventions and complications during childbirth.

Let's Meet Our Babies!

– Prepare for the moment of meeting your baby and what to expect immediately after birth.

Bonus Materials! –

Gain additional insights with bonus materials on inductions, anxiety, and advocacy.

Discovering Restful and Restorative Yoga E-book

– Enhance your learning with this e-book, which provides additional insights into restful and restorative yoga.
Preparation is key when it comes to childbirth. The Childbirth Preparation Course is not just about learning facts; it's about understanding the process, knowing your options, and feeling empowered to make the choices that are right for you and your baby.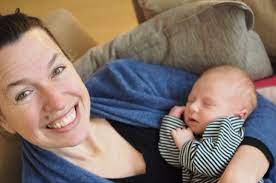 Terry is a professional birth doula in NYC. She considers herself to have been lucky enough to greet over 900 babies in her 20 year career. Most of these births have occurred in hospitals but some have been in birth centers and at home.
She grew up in Vermont, but has lived in NYC her entire adult life. A hybrid of city and country. Crunchy but savvy. She first came to NYC to pursue her acting career. It was during this time, while singing and dancing on Broadway, that she became pregnant with her son.  
Prepping for the birth became an obsession; She devoured every bit of information she could find. She was amazed and disappointed in how very little she knew about any of it. Thus began her new career and she never looked back.
Her intention is to meet you where you need support, guide you to your instincts, and offer you a toolbox to build confidence. Through sharing practical knowledge, her aim is to help diminish fears and challenge the myths built up around birth.
Terry is not here to tell you what to do. You should birth the way you want to, with your preferences and your style leading the way. She is here to help you be you through one of the most magical and challenging experiences of your life.