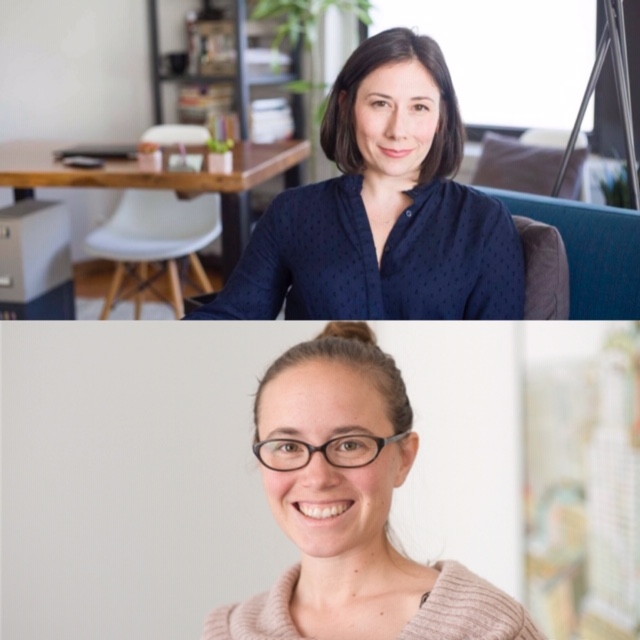 17 Apr

Body Positive Parenting

I wish I could say I have a very loving and peaceful relationship with my body and body image; unfortunately, I do not. However, with awareness of this personal flaw, I've made great efforts to be mindful of what I say about my appearance and any comments about the physicality of others in front of my children. As my all time favorite composer said so perfectly, "Careful the things you say, children will listen. Careful the things you do, children will see and learn."

In this episode of Yoga| Birth|Babies, I speak with founders of The Full Bloom Project, Zoe Bisbing, LCSW and Leslie Bloch, LCSW about how to raise children from a perspective of Body Positive Parenting. If you carry some of your own baggage or simply wish to lay a positive body relationship for your child, this conversation will inspire you.

In this episode:
Learn about Leslie and Zoe and what brought them to this work.
What is the Full Bloom Project?
How to create healthy body image from a young age.
Language parents should be mindful of using around their children.
How parents can help a child who may have a bigger body.
Habits and behavior parents can use to pave a foundation of healthy body image.
Habits or behavior parents need to monitor about themselves.
How to ensure children's caregivers present a united front around body positivity.
Support for a parent come to grips with their own body image beliefs to pass on an unbiased view.
Keeping children out of the world of beauty and comparison.
Suggestions for creating a healthy relationship between kids and food.
Where can you find Leslie's and Zoe's work
Extra resources and suggestions:
Beauty Sick: How the Cultural Obsession with Appearances Hurts Girls and Women by Renee Engleln, PhD
Intuntive Eating by Evelyn Tribole, MsRd
Janet Landsbury – foundation for body positivity parenting – link to her website – popular rye technique – great for very new parents and toddlers
About Leslie:
Leslie Bloch, LCSW has focused her therapy career on treating eating disorders based on clinical research data. She strives to keep up-to-date on the most effective treatment modalities in the eating disorders field and to deliver these modalities with fidelity.
Leslie currently uses Christopher Fairburn's Enhanced Cognitive Behavior Therapy for Eating Disorders (CBT-E) to treat most adults with eating disorders. She uses this modality because, based on the current body of research, it is the most effective treatment for adults with eating disorders. In 2015 she completed the first CBT-E training made available by Professor Christopher Fairburn and Professor Zafra Cooper of the Centre for Research on Eating Disorders at Oxford.
Leslie is certified to treat adolescents with eating disorders using Family Based Treatment (also known as FBT/Maudsley Method) by the Training Institute for Child and Adolescent Eating Disorders.
Leslie has also been intensively trained in Dialectical Behavior Therapy (DBT) with Behavioral Tech. Since 2011, she has facilitated DBT skills groups for individuals with eating disorders using the adapted form of DBT for eating disorders. She uses this modality to enhance eating disorder treatment as well as to treat those without eating disorders when clinically indicated.
Leslie is a graduate of New York University's Silver School of Social Work. She completed her clinical internship at The Renfrew Center of New York where she worked in the Day Treatment and the Intensive Outpatient Programs. Prior to opening her private practice, Leslie worked for three years at Columbus Park Collaborative, a private outpatient eating disorder treatment center.
Before graduate school Leslie studied at and worked as the Education Director for the Institute for Integrative Nutrition. She also spent time working as a LEED sustainability consultant for companies and the green building industry.
Leslie lives in Manhattan with her husband and two daughters.
My approach to therapy values the authentic relationship between therapist and client as an essential ingredient to a safe and healing environment. I bring equal parts compassion, current knowledge of relevant research and theory, and curiosity to our work. I am collaborative, goal-oriented, and always willing to meet you where you are. At all times I want our work to feel meaningful to you.
I have worked with adults, adolescents, and children across a wide range of treatment settings, including the inpatient unit of New York Presbyterian Hospital-Payne Whitney Westchester, where I provided individual, group, and family therapy.
I hold a Master of Social Work from New York University, a Bachelor of Arts from Smith College, and a certification in Family-Based Treatment from the Institute for Child and Adolescent Eating Disorders. I have also completed additional training in CBT-E through the Centre for Research on Eating Disorders at Oxford.
Prior to my career as a therapist, I worked professionally in the performing arts, both on and off stage. I deeply appreciate when my current vocation allows me to bridge my past and present; working with individuals facing the challenges any life or career transition may bring is both challenging and greatly rewarding. I value maintaining a balanced practice and enjoy working with individuals and families from all walks of life. I am passionate about destigmatizing mental illness, the body positive movement, and eating disorder prevention. A native New Yorker, I live in Manhattan with my husband, two young sons, two beloved dogs, and could not live without the ocean or Vanilla Häagen-dazs ice cream.